We were home in Dublin for a change on the 4th of July when we heard about a unique and somewhat surprising event at St. Patrick's Cathedral; an organ concert called
Stars and Stripes Forever
.
The program promised a selection of American patriotic favorites played in a dramatic setting. The performance was free with donations accepted on a pay-what-you-like basis to support the Cathedral Choir Fund. There is normally an admission fee to St. Patrick's Cathedral so as an added bonus, we saw this as an opportunity to get inside and have a look around for free. We employed a
similar strategy for Christchurch Cathedral when we visited for the Christmas Market
.
We took a seat in one of the hard straight-backed pews.
We took a moment to admire our surroundings.
A screen was set-up so we could see the action unfold with both our eyes and ears. It took three people on the organ to make this performance possible; two playing and one to flip the pages of the music.
The performance was great fun and I've captured a few snippets below. Such skill!
The caretakers of the cathedral tried to shoo folks out quickly after the concert because it was after closing time. However, we managed to take a short look around before we left. Parts of the church had a medieval feel with crested flags flying and a row of helmets and swords below.
A regal eagle presided over the church.
I mentioned that the pews were pretty hard. In the back there were chairs lined up. Each seat had it's own personally embroidered seat cushion. I've never seen anything like it before. They were pretty and practical!
We took one last look at the stained glass and statues in the alcoves and continued on our way humming a little John Philip Sousa as we went...
-----------------------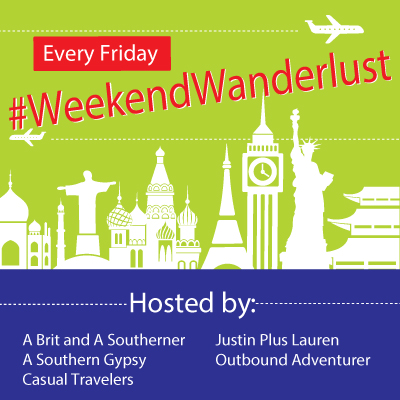 #WeekendWanderlust